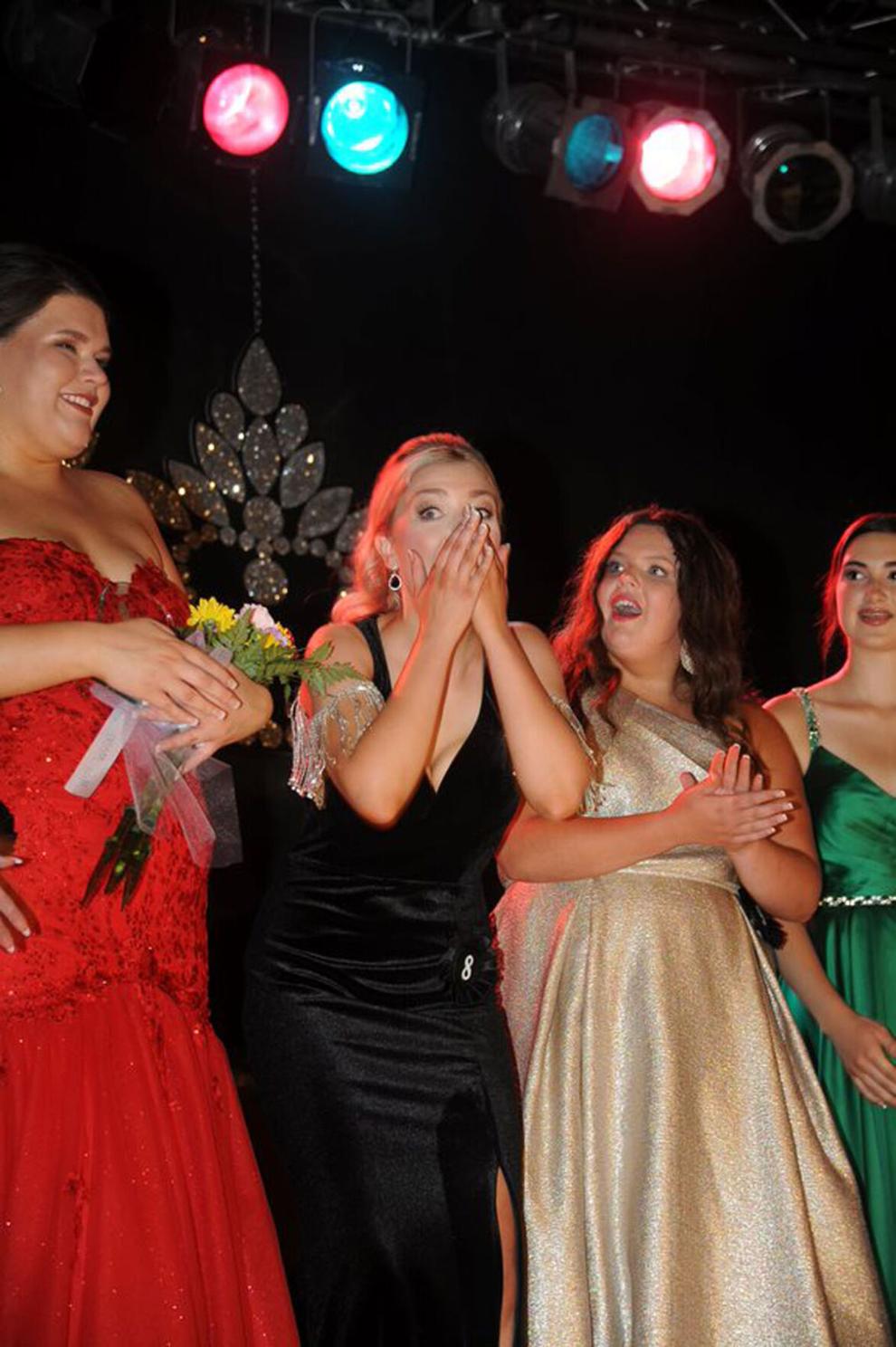 Julia Kerkhoff learned a valuable lesson from competing in queen contests: never give up.
Kerkhoff, who was crowned Miss Moultrie-Douglas County Fair Queen, has won four titles, and it took her three times to win each one.
"I think experience is key, and having fun is key," said the 20-year-old Tuscola resident.
Kerkhoff, who is also the reigning Miss Tuscola (she will relinquish that title on August 6), also won Little Miss in 2008 and Junior Miss in 2016.
"It was a lot of fun. I was lucky enough to get all three Miss Tuscola titles," she said. "I have always been around her. This year was probably my favorite year.
She was selected from a group of 13 young women, which makes the selection "much more special that they chose you from among all these wonderful girls".
After high school, Kerkhoff earned an emergency medical technician certificate from Lake Land College and worked at Mattoon. She will study at Parkland College to become a paramedic.
Daughter of Sharri and Harrell Kerkhoff, she doesn't know where she would like to work as a paramedic.
"I like working where there are people," she says. "Not necessarily a big city. A place where I can take care of myself.
Genealogy is one of her interests, and as a result of her research, she found some "interesting" characters in her family tree.
Among them are the Doan gang, who, despite being raised as Quakers, weren't the most upright of guys. Loyal to the British during the Revolutionary War, the Doans stole about 200 horses and about $2 million in cash from tax collectors and others and buried them, Kerkhoff said. The money was never recovered.
"They almost succeeded in stopping America from becoming America," Kerkhoff said. "They gave a general a note saying Washington is going through Delaware. But (the general) didn't read it in time. He was playing a card game.
"I'm sure a lot of family members disowned them."
Kerkhoff said a documentary series was made about the gang.
But not all the Doans were hooligans. Kerkhoff said she was also linked to James Doan, the pharmacist famous for his back pain pills; two-time Olympic champion Catriona Ann Le May Doan; and former National Hockey League player Shane Doan.
In addition to studying genealogy, Kerkhoff said she also loved to sew and was a high school basketball and college football cheerleader, member of the FFA, band and an honorary choir.
Competing for the Miss Moultrie-Douglas County Fair crown, Kerkhoff stumbled upon the subject of her speech by accident. Literally.
She said she was sitting with friends talking about what her speech should be when a waitress spilled drinks on them and on their table.
They told the waitress not to care. This sparked the idea of ​​what Kerkhoff should talk about: the importance of kindness.
Contest director Sandy Hoke said that competing for the title, Kerkhoff was "stable all night – in the best percentage and stayed on top."
"She was true to herself and everyone around her. She never changed," Hoke said.
Hoke, who has run the pageant for 29 years, said one thing that sets Kerkhoff apart is her natural smile.
The first runner-up for Miss Moultrie-Douglas County Fair Queen was Tuscola's Reggan Smith, while the second runner-up was Atwood resident Logan Streible; and Miss Congeniality, Meadow Picazo de Tuscola.
The crowned Little Miss was Sullivan's Whitley Fryman. Arthur's Kimberly Krustinger won the Miss Junior.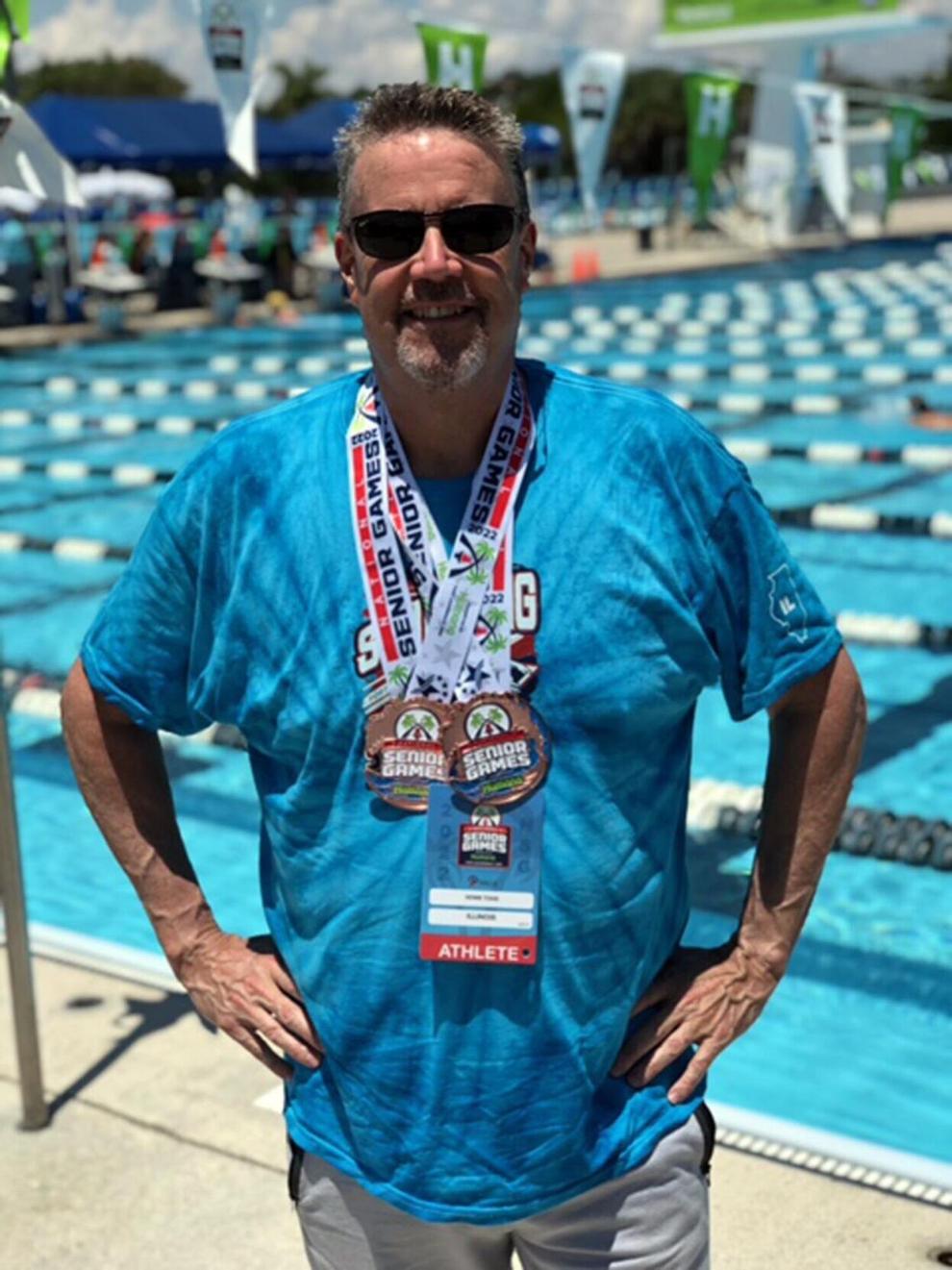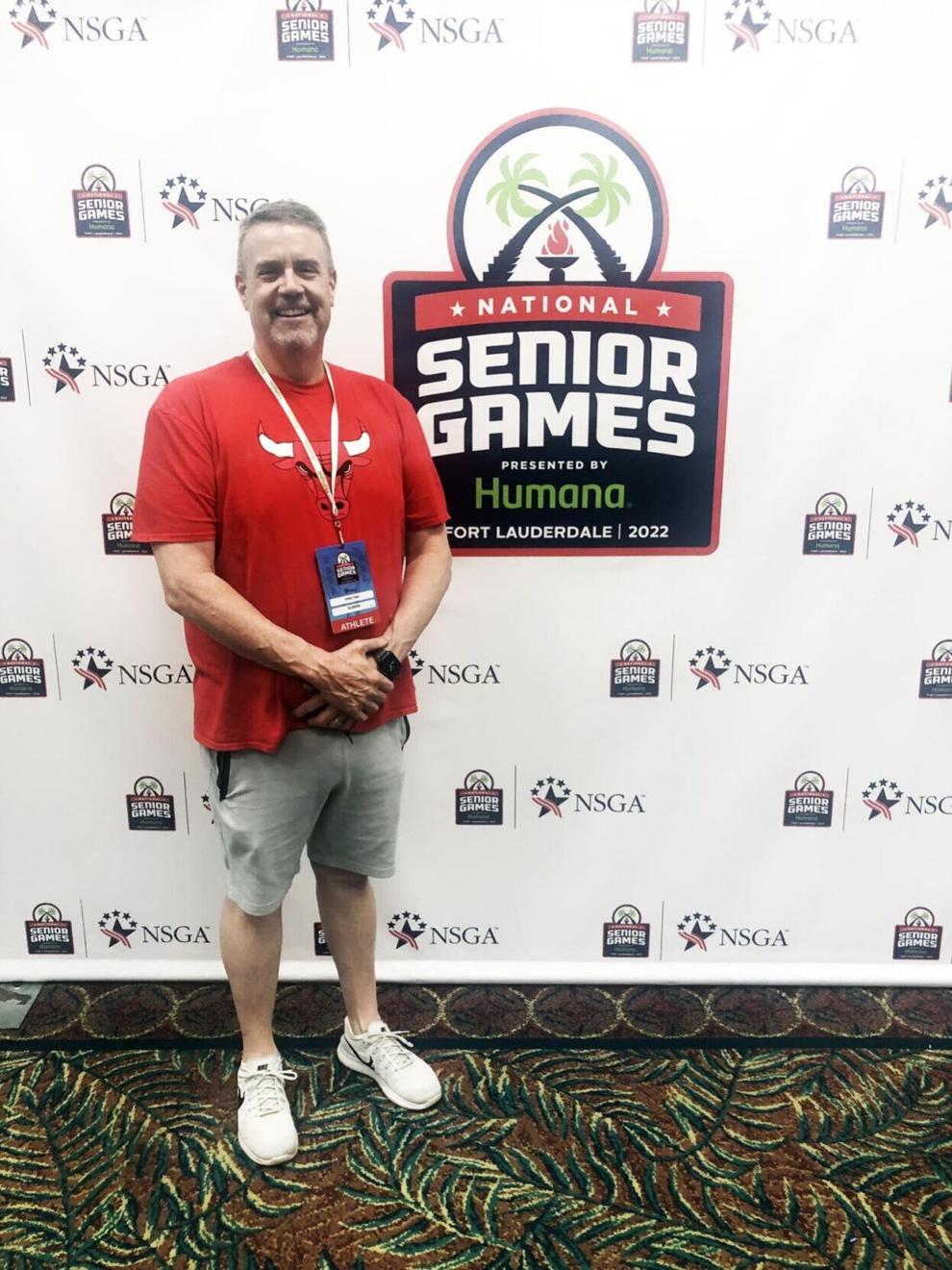 Howe likes to come back in swimming
After his college competitive days as a swimmer ended, Todd Howe took a break from the sport. A break of 35 years.
The 57-year-old Monticello resident, who swam competitively at Centennial High School and Valparaiso University, decided he needed to start eating right again and start swimming again. He said he felt much better.
"Around 2019 I decided I needed to be healthier, so I joined the YMCA," said Howe, a self-employed insurance agent who works in Savoie.
He dieted and lost 40 pounds and, on the advice of another swimmer, joined the Y's lifeguards team, which necessitates a commitment to workouts on Friday nights and Sunday afternoons. midday.
In September, Howe competed at the Senior State Olympics in Springfield, swimming in four events, winning one gold and two silver.
This qualified him for the National Senior Olympics in Fort Lauderdale, Florida where over 700 swimmers competed. Howe won bronze medals in the 200 freestyle and 500 freestyle and finished fifth in the 100 freestyle, shaving 15 seconds off her best 500 time in what was only her second competition since college.
Howe said getting back in the water after more than 30 years was not easy.
"It hurts. It was really painful," he said. "I was heavier. I can swim, but it takes time to build up the stamina to swim 500 meters.
"I had to rest a lot, then I was able to swim 1,000 meters."
On a recent morning, Howe did a 2,500 yard practice session. In the masters on Friday evening, they swim 2,900 yards and on Sunday, 3,100 yards.
"I feel fantastic," Howe said. "I lost a lot of weight. Since I was in my late twenties, I haven't had the weight I have now.
He swims four times a week – about 8,000 to 10,000 meters in total.
"I still feel like I could lose another 20-30 pounds and go even faster," Howe said. "I want to break 6 minutes in the 500." (He clocked 6.24 at Ft. Lauderdale.)
Howe plans to compete in the Senior State Olympics again in September.
Howe credited his wife, Amber, along with fellow swimmers Van Grissom, Garret Plocher and Dorothy Debolt and masters coach Tina Johnson for much of his success.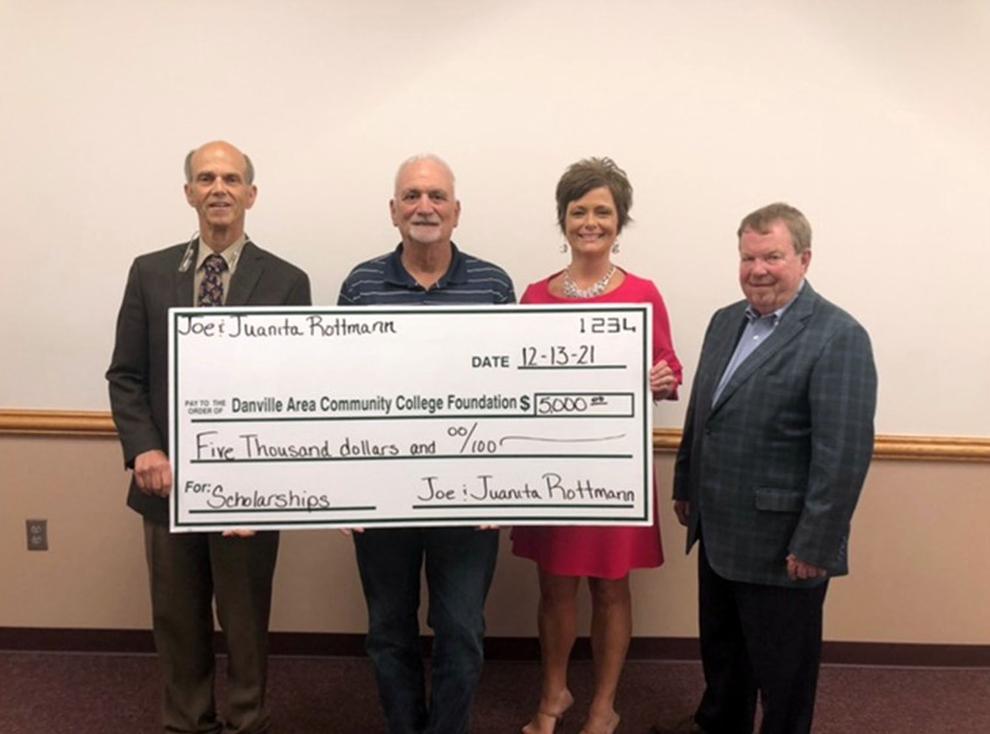 Couple donates to DACC
Joe and Juanita Rottmann recently endowed a scholarship at Danville Community College to support working students as well as those participating in extracurricular activities such as intercollegiate athletics.
The fellowship is called "Ginkgo Biloba" in honor of the Rottman family tree species.
The Rottmans wrote DACC a check for $5,000.
Joe Rottman's career included over 27 years as a senior guidance counselor at Danville High School. Juanita Rottman was an elementary school teacher for Danville Schools.
Their son, Joe, and daughter-in-law, Jennifer, are DACC graduates.
Students recognized by the county bar association
Isabel Juarez of Danville High School and Cade Cummins of Danville Area Community College are this year's recipients of the Vermilion County Bar Association Scholarships.
Each will receive $750 to help pay their college fees.
Juarez, a 2022 graduate of Danville High, is a member of the National Honor Society, Hispanic Leadership Club and has participated in the AVID program, which teaches students critical thinking, academic note-taking, collaboration and communication skills.
She participated in college cheerleading and soccer at Danville High. She volunteers for the Toys for Tots foodmobile and has worked part-time for Dunkin' Donuts.
In high school, she earned 29 college credits from the DACC. She was accepted into the radiological science program at Southern Illinois University.
Cummins has completed his second year at DACC. He will transfer this fall to Grace College in Winona Lake, Indiana, to earn an undergraduate degree in accounting and an MBA.
He took full-time online courses at DACC while working a full-time job at the Vermilion County Circuit Clerk's Office. Cummins plans to go into law after earning her undergraduate degree. He works at the Danville YMCA as a lifeguard and with various children's programs, including summer camps.
Cummins volunteers in several community projects and was a Presidential Fellow at DACC.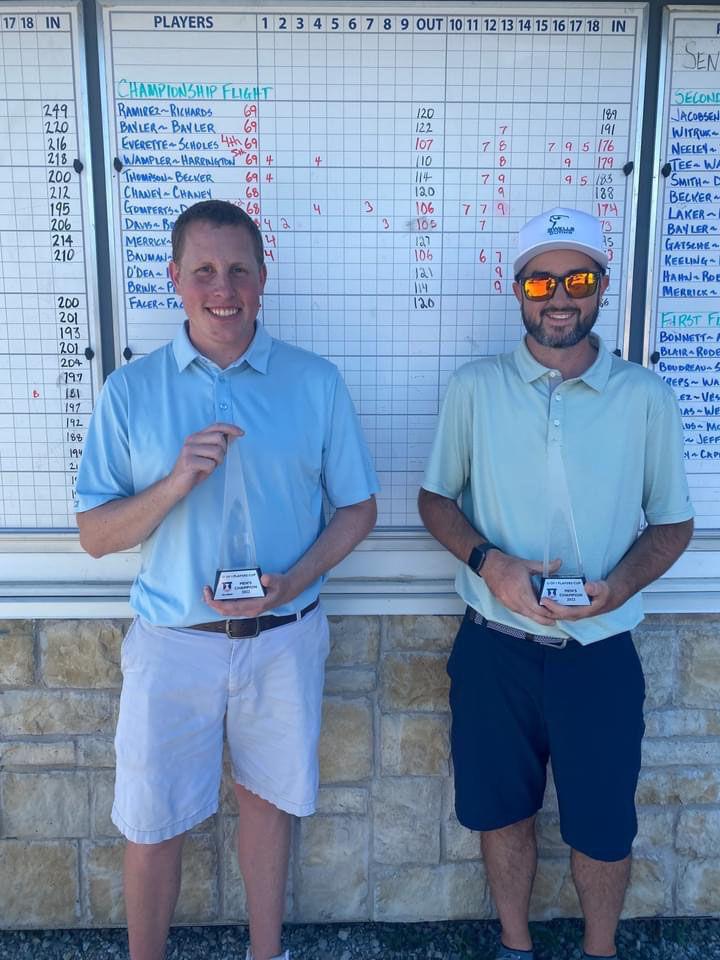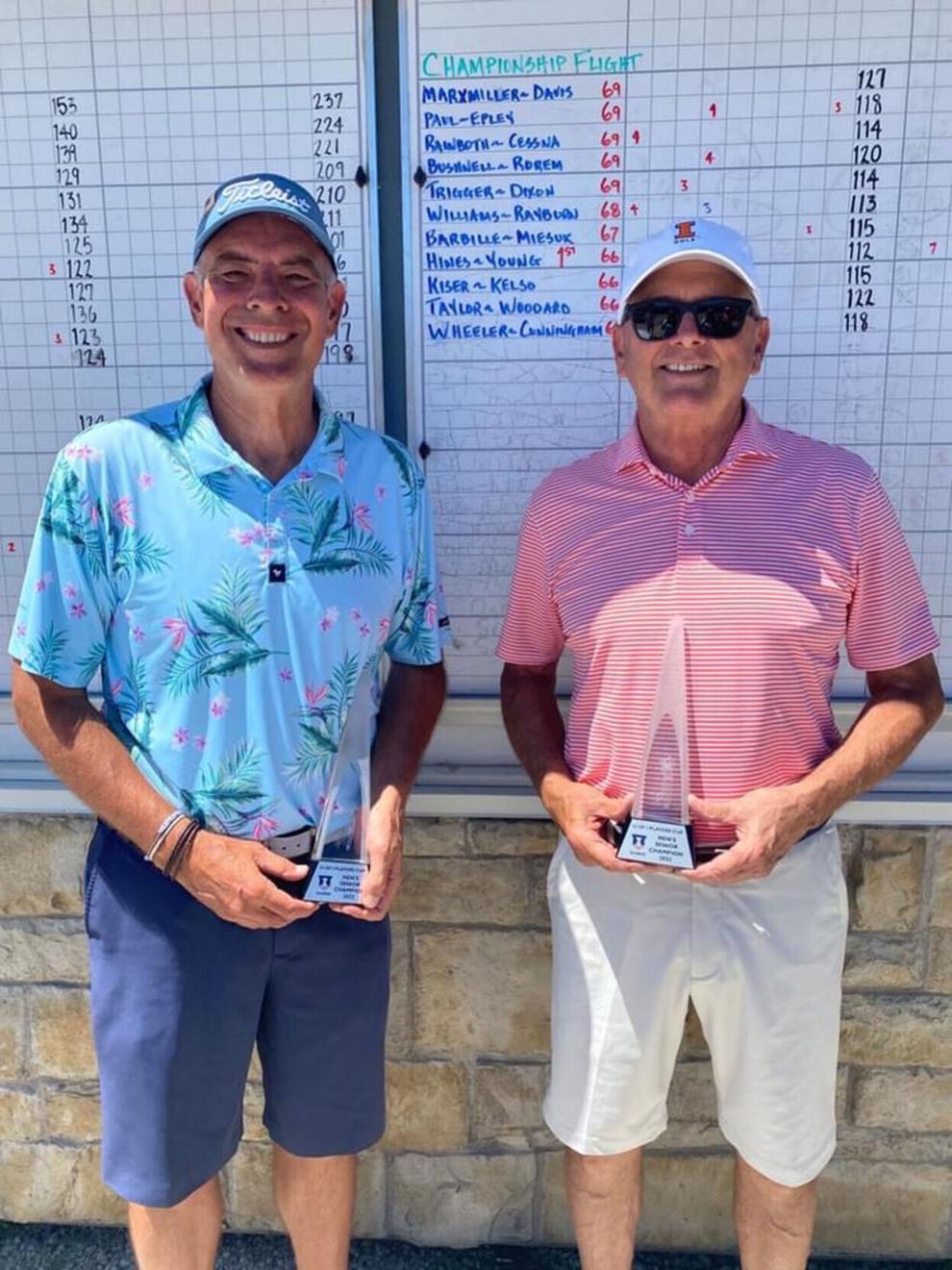 The Players Cup champions take center stage
Scott Davis and Andy Brunson won $200 for winning the University of Illinois Players Cup men's golf division. They shot a total of 173 in the championship flight. In the senior division, Joe Hines and Barry Young, who combined for a score of 178, took home top honors and $200.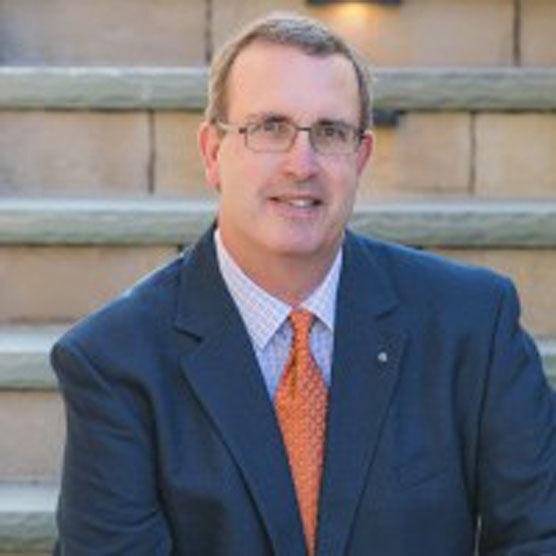 Salen named Councilor of Distinction
The North American Interfraternity Conference presented Todd Salen, advisor to the Phi Kappa Psi Chapter at the University of Illinois, with the Advisor Distinction Award.
Over the past three decades, Salen has been instrumental in the development of the men of the fraternity.
Present and available in times of turmoil, when it comes to managing risk management issues, assisting with accountability and supporting difficult conversations, Salen's dedication as a Chapter Advisor is not went unnoticed, according to Jerry A. Davis, chairman of the Interfraternity Conference scholarship committee.
It does what it can to improve the experience of other organizations as well.
"As an active mentor, staying in touch with alumni, and as a volunteer facilitator for countless Phi Psi and University of Illinois programs, he has had a lasting impact on individuals, Phi Kappa Psi and the campus community," Davis said.