[ad_1]
And it begins …
Green Party discontent: MPs march, ex-MPs criticize leadership
Former senior officials accused the Greens of rejecting the fundamentals as party discontent surfaces over its government cooperation deal.
Former MPs Sue Bradford and Catherine Delahunty say the deal makes no sense and the party's position in government amounts to a failure of leadership.
Delahunty criticized his former colleagues for failing to point the finger at an "unnatural alliance between banks and government" that represented record bank profits, inflation in house prices and growing inequality.
Former co-leader and current Greenpeace New Zealand chief Russel Norman also called Green Minister James Shaw's position "just not credible".
RNZ can reveal that a number of activists have recently withdrawn from the party, including former members of the executive and political wing.
They accuse Co-Leader Shaw of having an autocratic style and complain that the party executive does not hold the caucus and leaders to account for the political decisions of the government.
TDB recommends NewzEngine.com
The co-leaders of the Greens rejected the criticism, maintaining the Democratic Party and making gradual changes of government.
The party signed the agreement on October 31, 2020.
Prime Minister Jacinda Ardern told media the deal was aimed at building consensus and stability, but stressed her party has the right to rule alone in parliament. Labor won over 50 percent of the vote.
Shaw remained Minister of Climate Change and Associate Minister of Environment (Biodiversity), while fellow co-leader Marama Davidson became Minister of Family and Sexual Violence Prevention and Associate Minister of Housing (SDF).
The terms of the agreement tied the two men to collective ministerial responsibility, but allowed the Greens to disagree and criticize the government on matters outside these ministries.
Shaw and Davidson were excluded from cabinet and tax policy issues.
Former politician and executive member Megan Brady-Clark – a delegate who voted to block the deal – said the specially convened meeting on the deal was carefully managed.
Delegates met on Zoom in a virtual conference on October 31, 2020 at 4 p.m. and were encouraged to reach a "consensus" around the document. They were given access to copies of the proposed deal at 4:30 p.m. at the same time as it was made public.
Brady-Clark said he left little to no time for wider dissemination and debate within their branches.
A government press conference was also scheduled the same evening to announce the deal, putting additional pressure on delegates to approve it.
… It's been 14 months since the Greens surrendered their mana for vacant office trinkets in a government in which they have no power and what do they have to show for this strategic blunder?
Bullshit awakened.
I warned the Greens in 2020 that unless they come in force and demand transformative change and threaten a civil war with Labor, they will get a soft FA, and they have succeeded in get even less than that!
Greta is right, the real power is to protest outside the conference, not to sell yourself inside the conference!
The green strategy team is made up of checkers players trying to play chess.
Marama and James' negotiating tactic was to get on their knees and beg!
You don't get anything by begging, and they get nothing …
No political gain, just a few vacant office trinkets.
The Greens are repeatedly being tricked by Labor in a never-ending cycle of abuse that started with Helen Clark and you feel like someone should step in and step in now.
Labor gets the inoculation and political cover-up they want and the Greens get nothing.
Jacinda's lukewarm incrementalism will not be contested by the Greens, it will be supported by them.
As the events of the climate crisis explode over the next 2 years, welfare reform goes nowhere, housing stagnates, poverty spreads, the Greens will sit alongside Labor like a parasitic twin unable to think for himself, let alone change things.
It quickly becomes clear that Labor and Greens are not the political vehicle for transformative change. With Labor too focused on preventing the Covid explosion in New Zealand and the Greens now gagged, no forward-looking vision on how to turn things around will be articulated.
This is a government backed by Labor + Greens, giving them 75 seats in a 120 seat Parliament and yet they CANNOT STILL be transformative?
All the Greens have gained for their hollow ministries is collusion with mediocrity and a few identity political victories.
The Greens don't know if they are Arthur or Martha and if they did they would need a 7 month hui to discuss the use of pronouns.
Watching Climate Strike For Students Auckland get canceled last year due to heteronormative cis male privilege sums up the Greens perfectly. A middle-class asthetic for the virtue of social justice is linked to an awakened dogma that believes that all white people are racists, all male rapists, and anyone who supports free speech is a Nazi.
Greens are as alienating as a spin-off dinner party where everyone argues over who hates white men the most.
Greens are perfect for nipple free gatherings with trans cyclist activists allies of blogging moms, not so good on neoliberal economic hegemony.
They spent a year reaping the handy rewards of identity politics while doing nothing meaningful about poverty, homelessness or climate change.
The awakened NZ Greens have become so attached to the power public health has given them over Covid that they can't fathom losing all that virtue signaling credit, they yearn for a perpetual level 5 and seem sad that no actual genocide has happened.
Despite my contempt for what the Greens have transferred to, I will probably still vote for them in 2023 but will skip the second there is a real alternative.
Their only hope is Chloe.
Chloe is a unique talent. She speaks with the energy of the new generation of voters in a language that empowers and challenges. She is an incredible communicator and if she had the leadership she could dominate the political debate.
What could be more radical than the youngest political leader in New Zealand history?
Chloe as a leader is a 15% party. Imagine Jacinda as Prime Minister with Chloe as Deputy.
To be politically relevant, the Greens must be necessary for the Labor Party. To do this, they must take Labor voters.
Chloe can do it. Marama and James can't.
Meanwhile, the planet is burning.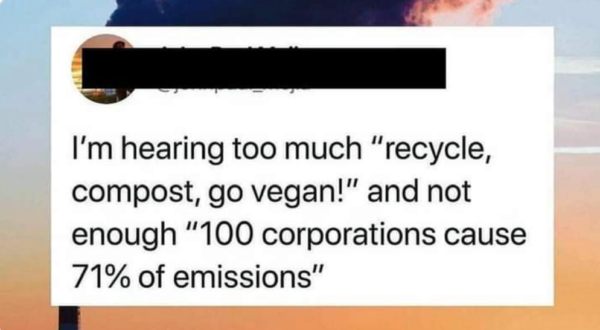 Increasingly having an independent opinion in a mainstream media environment that primarily echoes has become more important than ever, so if you value having an independent voice, please donate here.
If you can't contribute but want to help, feel free to share our blogs on social media.
[ad_2]